Do your banking on the Go! Introducing Mobile Banking with Financial Partners Federal Credit Union app. Click here for Google Play Download or click here for Apple Download. You will use the same Logon credentials that you created when accessing e *Teller.
Instant Balance: When enabled, users can securely preview balances without logging in.
Touch/Fingerprint ID: Log in using your fingerprint instead of a password with Apple's Touch ID or Android's Fingerprint Authentication.
Account Balances: View your account balances in real-time.
Recent Transactions: View both recent and pending transactions.
Transfer Funds: Easily move money between your accounts.
Fully secure. Use Mobile Banking with complete confidence. It delivers the highest level of security thanks to multiple layers of authentication.
---
e*teller upgrades and enhancements
Financial Partners FCU is excited to announce that we launced an enhanced version of our e*Teller Banking service on November 12, 2020. The new service offers many new benefits and features including a streamlined interface, more time saving features and powerful tools for managing your accounts.
If you had e*Teller access established prior to November 2020, but have not logged in since the November 2020 update, your account may be inactive and you will need to contact the credit union prior to any login attempts. You will not be able to re-enroll.

If you recently signed up for new e*Teller access with a service representative, you will need to click the Enroll button to complete your account set up. Note: You cannot use your account number as your Logon ID.

You must contact the credit union to qualify for initial access. Please do not attempt to enroll without first contacting us.

If you attempt to login with valid credentials, but experience an "unable to validate" error message, then you should delete cookies and cache from your browser. You can also try the login on a different browser. Deleting Cookies and Cache is usually found on your browser's settings under "privacy".
---
Financial Partners recently made changes to our credit card program. These changes bring exciting benefits to our members including improved care with new rates and rewards, comfort with EMV chip technology, and convenience with Card Valet, our new card management app. New card applicants will be offered the improved rates and rewards program advertised on our updated credit card page. Current card holders are encouraged to make the switch to the new program as well. The new program offers lower rates and UChoose rewards where you can earn points toward the things you use most. To apply or make changes to your existing card, please contact one of our loan officers.
---
If you refer a friend to Financial Partners Federal Credit Union and they open an account with us you will receive $60.00. The person you referred will receive $40.00. All funds will be placed in each member's savings account. Just fill out the coupon with your name and give it to the person you are referring. They should return this coupon to the teller when they open the account.
---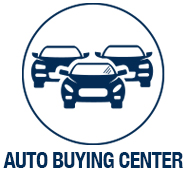 Let us help you find your new car! Enter our Auto Buying Center and research vehicles for sale in your area.
You can even apply for financing once you find the right one.